Archivio del blog, Luglio 2001
Lunedi 30 Luglio 2001
It's dirty already!
I've been whining for months, but last week I broke the rear hub of my Trek 820, effectively acknowledging that my bike had turned in fact in a piece of junk. Last Saturday I got myself a Specialized Hardrock FS Intl, of which I'm totally proud and happy, despite the fact I wished 900.000 liras would buy me more (eg. Judy fork, Deore group, better levers). I rode a couple of hours and I must say the front suspension makes it a breeze handling rough terrains and uneven trails: the bike follows the countour of the land and all of the rider's leg power is transfered to the wheels. I loved pushing to speeds I could not get on my old bike.
Bike shops make on me the same effect Santa's Toy Factory would make to a child: I want to touch everything, I'm intrigued by all those mechanisms, blown away by the beauty of the frames, seduced by the glimmering effects of shiny new bikes seductively posing on their stands, I'd buy everything... kust like a kid would do.
Venerdi 27 Luglio 2001
Not much is going on. I'm working head down on Provami, debugging the second release so that I can go happily on vacation (Corse). This will bring a much needed db upgrade, streamlined flows in user interaction and a solid commerce engine. Next I'll do a usability analysis and work on the personalization engine. The days are flowing past fast and intensively: I'm happy. I haven't written that I am in quite a long time, so it is long due.
I'm happy!
I got email from "strangers" and started debugging a part of me that behaves much more impredictably than ASP code...
Mercoledi 25 Luglio 2001
A few
pics from monday's Ben Harper's concert
.
Martedi 24 Luglio 2001
Allora io ero a Genova. Io ho visto.
Non date retta ai giornali ed ai telegiornali.
È stata una cosa pazzesca, un massacro.
Non voltatevi dall'altra parte...
Lunedi 23 Luglio 2001
Awesome!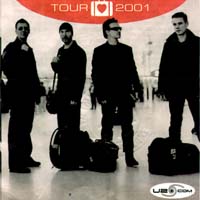 U2's concert was awesome. Chilling, dense, pure, damn good rock, crawling up your spine and clicking in your head like being shot at 200mph from a cannon, nothing of the techno-crap of the past pop-mart tour, just truthful sonic energy.
It started with Elevation, then Beautiful Day, Until The End Of The World, New Year's Day, and more that I can't remember. It was good, but the sound wasn't so fluid, it wasn't pulling you in so much, instead leaving me a little puzzled. But Where The Streets Have No Name flipped a switch: the energy doubled, the stage broke its bounds, everyone got sucked in and it felt like the stadium had contrapted: from then on my eyes stayed transfixed on the huge monitors hunging over the stage, the Edge's riff bouncing endlessly off the speakers, vivid colors splashing the crowd and song after song of musical ecstasy.
U2 played for almost 2 and a half hours, Bono was very moved by the crowd, so much it asked for "one more" to the band twice. Among the bis With or Without You, Pride and One. It was good.
Sabato 21 Luglio 2001
Verba
is bursting with comments on the G8 forum. News of the death of the young protestant have reached
Dave Winer
too.
Just in case
Fabio
was right: I disabled
Smart Tags
from the site. Just add
<meta name="MSSmartTagsPreventParsing" content="true">
to the head section of your pages.
Venerdi 20 Luglio 2001
The stars are looking good today, I feel great, and tomorrow I'm going to U2's concert. This week I listened almost entirely to U2 songs, I'm eagerly awaiting the show, I'll miss Bardi but it should be worth it. Right now I'm mimicking BB King playing guitar... yes I look like an idiot, pretending to hold Lucille on my big belly (I wish I had a pillow to stuff under the shirt), but if we were playing
Guesstures
, you'd nail the answer in no time — It's WHEN LOVE COMES TO TOWN!!!!!
Giovedi 19 Luglio 2001
At loss of words...
Mercoledi 18 Luglio 2001
Digital pictures are ephimeral. There's a melancolic beauty in holding a negative knowing it's the simulacra of the picture, knowing that film holds those colors, emotions, memories. Heck, you can't even give it as a gift!
Lunedi 16 Luglio 2001
You know all those great plans for bank robberies? Those that involve high tech equipment that has been invariably stolen from top-secret government agencies; that see as protagonists smart-ass folks with square minds, athletic bodies (saved the black fat guy who stays at the radio and works at the computer to disable the alarm system), and great lines; plans that are not dreamt, rather carefully designed, then meticolously implemented, and finally benefit someone who had nothing to do with the Plan. That's Hollywood.
Pan all the way left to where I am. No need for punchy lines, A-class hardware or elegant film cutting: my plan, the Plan, is very simple, but incredibly effective.
Now, there's this truck that sports a nice Algida painting on its sides that every two days manages to be in front of me while riding to work (where else!). I also happen to have one of those waterguns of the 90's, kinda nice and alien, some thirty seconds of pumping get you several shots at more than 10 meters. I'll be Robinhoodesque and steal only a box of cornettos, because the scooter can't carry much more, and besides, how fast can I eat all that? The trick is at getting side by side with the truck at the traffic light. Then fire, wait for the guy to jump out enraged, run away, whistle to my pal hidden in the bushes... wait a minute. What kind of a Plan is it if I need an accomplice? Uhm... anyone volunteers?
Venerdi 13 Luglio 2001
yes, anche questo post è in italiano...
Mercoledi 11 Luglio 2001
Come si dice
gongolare
in inglese? Beh, è quello che faccio da ieri...
Lunedi 9 Luglio 2001
i can't post when i've got so much work to do. i'll be in verona tomorrow. the end of x-files was disappointing, but the first episodes will air next sunday. incidentally, friday night on italia1 i think i watched two horrible movies (a special squad type, only with a bunch of californian blonde models straight out the discarded from baywatch cast selections; and a horror/police/romantic/doublegame one) and i really hope wainer saw them because they were exeptionally trash. vivident green mints don't last as long as they used to. solid ground is a cornetto algida (or a sammontana cinquestelle). riding 50kms on a bike as first attempt of the season guarantees tiredness the day after. but the view was worth it. i shortened my swimming pool training due to a meeting. and put lunch on stand-by. i read the whole assembler thread on metafilter. i don't know. i don't have time to save the google cache. i realized i am going to u2's concert. really!!! i need a quick dhtml/css outline menu. i still have tons of work. just remember: the answer is 42.
Venerdi 6 Luglio 2001
Microsoft prohibits use of open source software
in conjuction with its
developer tools
. This could mean only two things:
lawyers finally took control and no engineer, developer, project manager, PR or marketing consultant can interfere with their decision
MS thinks the Smart Tags storm was an isolated incident
The recent overturn of the antitrust case
has paved the way for a
louder
,
nastier
attitude for MS in handling competition.
Giovedi 5 Luglio 2001
The best part about the
Gnutella network
is the browsing experience. Leaving the monitor to searches that run on the network open, you get a glimpse of what other users are looking for, and most of the time, some lines tempt you or simply hit you with the classic "Why didn't I think of that?". Mostly, it's porn, but the rest can reveal treasures.
I'm hyper-everything this morning: I screamed twice
I'M ON DRUGS!!!!
riding to work, and after drinking the usual morning coffee, I slam dunked the empty paper cup on the head of a colleague (you should have seen his face) and smoothly placed it in the dustbin. YEAH!!!!
Mercoledi 4 Luglio 2001
I started reading Italian weblogs after an article by Vx. Now she blogs no more. And now I'm thinking: are they sticking to it? Do we blog just because it's cutting edge, trés cool, hip and fashionable (and that means we can quit any moment), or do we really need to let something out? And is this really the only way to do it? Or the best?
I am writing to leave a little trace of these days. i like to remember how they went by in their uneventfulness. I like to leave hooks that my feeble memory will use to reinvent (much more than reconstruct) my past. documenting the days that go by might seem stupid and even a waste of time. most of the time these words only have a meaning for a close circle of friends. i am not using blogging as a journalist tool so there's little point in pretending this has a value other than the gratification of writing and re-reading it. but this documentation of one's life is part of a network document whose borders blur in the collective sharing, hinting, and commenting of many lives, a sort of multidimensional diary. it's also a personal think-thank, a place where ideas take shape, and goals are set; when projects stand out for being neglected its public nature pushes me to resume them. So my question is: once you get used to it, can you let it go? Where do you turn to vent your uneasiness or screaming sense of being?
If you feel like, you can tell me.
Have you noticed how most radio commercials rely on the skipp- .... skipp- .... skipp- ....
skipping effect
lately? I must admit that being cognitively disturbing, one tends to give more attention to the message in order to decode it correctly, but as always, abuse of the technique effectively cancels its effect: just as Internet users have developed
banner-blindness
, similarly after a while I am perceiving less and less commercials that use such technique.
Martedi 3 Luglio 2001
Una scena devastante.