Archivio del blog, Aprile 2001
Giovedi 26 Aprile 2001
What I like most about
Irda-enabled storytelling
is that it's very grassroot: you get news of the storytelling from classifieds or other cheap popular mediatic vehicles; people gather and silently, almost as conspirators, point their PDAs toward someone standing somewhere, getting their stories. If timing were not essential, imagine yourself apt at directing your device at a person while riding a bus or overhead train. It all happens invisibly, silently,
magically
. And like the latest grassroot memes, it's for the technically adept, for the
cyber-attired
, and yet, not only you need not be online, but the experience itself is very
atomic
: it involves being in
that
place at
that
time. Hic et nunc, just... wireless.
Being a fan of Dostoevskij,
this
doesn't surprise me the least.
[ sorry, no English link ]
Eric Norlin is
around
the
web
today. So it seems many were reading the
Personalization newsletter
.
Mercoledi 25 Aprile 2001
Legulei: non è un provincialismo --
anche i doppiatori lo usano!
Mediatic day. Watched (and rewatched and rewatched) Fear and Loathing In Las Vegas. I laughed and enjoyed it, but I can't say it'll stay. If you like Terry Gilliam, you have to see it: the direction is allucinotic and the acting outstanding (Johnny Depp is majestic, and Benicio del Toro on par), but it's just a tick next to a title in the must see category. You see it, you are done with it.
The DVD doesn't offer much in terms of extra, and the Italian version doesn't allow you to see the English version without subtitles. The interface is terrible and reminds of those first amatorial attempts with Macromind Director you fond in ninetyninetysomething CD-ROM when they were a hot medium.
I Cento Passi (One Hundred Steps) is convincing and very rich in themes beside the denunciation of the rooting of the mafia in Cinisi and Sicily. A very good Italian movie that didn't make the last Oscar nominations.
I'm watching Kieslowski's Film Bleu in the Polish version. That means the movie has a voice over that recites the dialogues in Polish, while the audio is in French. That also means I get very little of the dialogue, so I'm watching it, raptured by the visuals, studying every line, every nuance of Juliette Binoche's expressions, every color, every light. The pace of the movie lends to it and the many silences help staying with the movie and not being an alien spectator.
The music is incredibly good.
Martedi 24 Aprile 2001
I'm just returning compliments here
. This is the good part of looking at your logs.
I'm done. After one and a half day spent reinstalling, I can finally run .asp pages again. Provami is up and running and seems to do fine. Which is good, being the first real project I have done in ages.
I got news that Costa Caligaris & Associati has merged with Orange. They are not online, which is almost paradoxical for an advertising agency.
Speaking of elegant words, last night out with Claudia I managed to say sincretismo and rasoio di Occam, both appropriately. Since we were at Alcool, you see that it was quite an achievement...
Lunedi 23 Aprile 2001
I'm reinstalling my W2K 'puter. So far so good, but what a pain! BTW, the webcam is back.
The two days spent at Casa Nuova have been one of the most enjoyable experiences of this year and worth the whole trip. Carla, Emanuele, and Diadorim Saviola are welcoming and extremely caring, and the more time spent in their company, the more one feels like staying.
Everything about Casa Nuova makes you feel good: the talks about the woods, reading in front of the fire, the genuine traditional food, the sharing of memories and stories, the way you are more a temporary part of the place and the family than a paying guest, the naïf paintings of Carla that bring forth a fable mood and people and scenes of an indefinite time, the sound of the piano that Diadorim plays majestically, the warmth of the bed, the whurling of the wind in the forest... there's no way I can capture it in words, and in so little space, so if you are near Parma just go.
Walking the trail for the blinds was an experience of itself. The trail is setup with a rope at hand level to guide along the path, so that a blind, or a person with their eyes closed, can follow it autonomously. There are little wooden sticks interrupting the rope at several points in the trail to alert you of various items in the sourroundings, and the trees carry identifying tablets in braille and italian. By the end of the trail you might have learnt to recognize trees by the feel of their cortex (I'll remember the roverella forever, for the soft musk that grows on it), and have heightened your attention to sounds and the feel of the ground.
The memory of walking the trail is very different than what you could expect, if you keep your eyes closed. Spatial orientation depends on following the rope, so I retain a mental map of the woods that is elastic and undefined: it is not a shape with dimensions, albeit approximate, but a collection of turns and steps that I can hardly reduce to a shape. It is much easier to follow the trail in memory than to abstract from the actual action and synthesize the event to a smaller and less memory hogging archival unit. Blind people must remember very differently than we do.
The drive from Tizzano to Lucca gifted us with wonderful views on the Statale 665 La Massese. At the Passo del Lagastrello we stopped the car at a breathtaking border, between Emilia Romagna and Toscana, with Tuscany dip in a dark grey sky that forecasted rain and Emilia in the yellow light of the sun. A zenital look witnessed clouds moving furiously fast and assembling thicker and thicker on the Tuscanian side of the mountain, as if they couldn't cross the pass and invade the Emilian territory bathing in the mountain sun.
Climbing to the Passo of Lagastrello, we found hail and rain, and views worth mentioning in National Geographic. I promised to myself to do it again: maybe next time horseriding -- the ippovia crosses the same regions.
There's a lot more to tell, but I'm feeling tired, and not having the pictures developed makes the writing less interesting. Suffice to say then that the Pieve di Sasso is a must to see if you like romanic churches, that the Val d'Enza is home to many interesting Matildic itineraries, that there are Post Offices even in small towns counting at most 50 inhabitants, that Torrechiara is worth a visit, that Lucca is a beautiful town (and that the piccolo hotel Puccini is a charm), that next time I go to Pisa I'll skip the Piazza dei Miracoli and finally see what else it has to offer, that I had great expectations on Portovenere which were somehow disattended, that I have to take trips like this one more often, that I better ready the other sections of the site, because a post this long is not fit for the blog.
Goodnight.
Martedi 17 Aprile 2001
I'm off for a short vacation (be back saturday night). I'll be spending two days resting at Casa Nuova a countryside lodging close to Parma. Agriturismo is the italian way of lodging that most closely resembles the french Gites De France: cozy mansions in the countryside where you can relax, enjoy good food, hike, ride horses, and forget the stress and fretful life of the city. And I want to do just that!
I'll be also visiting Lucca, which I missed last summer when I went to Pisa for the tradelovers' party (it'd be good to have a permalink, but I procrastinated too long keeping a blog). While researching for accomodations and notes, I had a hard time finding first person's takes on hotels and restaurants. This kind of collective filtering would be good, some sort of AmIaGoodPlaceToStayAtOrNot, as juggling hotels based on listings on tourist sites is hard.
As an aside, I've been thinking of a city-documenting project. More about this.
Domenica 15 Aprile 2001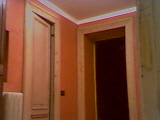 I was so eager to show you the remodeled entrance, that the quality of the quickcam has to suffice it: both shots are from the kitchen;
you see the door to the bathroom (left) and the one to the living room (right and open)
; here I slightly panned to the right,
on the left the same entrance to the living room, on the right, to the bedroom
. The entrance to the apartment is left of the bathroom door.
Happy Easter everybody!!!
Venerdi 13 Aprile 2001
Meg is definitively good at throwing thoughtful questions
The entrance to my apartment is a blast! I couldn't believe my eyes when I got home yesterday, I had chosen the color, but I didn't expect it to come out so good. We had the walls painted a pompeian red, now the door frames pop out and mark the space and it feels so warm and welcoming. I wish I could show you, but for well known reasons, I can't (yet). You can also come and visit, of course :-) [ yesterday ]
Mercoledi 11 Aprile 2001
che bello, a webgrrrrl...
peccato solo per vecchioni :-)))
the family of bloggers grows
...
Da Today del 9/4/2001:
Marco Benedetto, amministratore delegato [di Kataweb], ha aggiunto di essere convinto che "il futuro di Internet sarà la pubblicità. Come è successo per la radio, la crisi elimina i soggetti più deboli e, tra due anni circa, ci saranno meno protagonisti sul mercato a contendersi un osso più corposo".

(enfasi mia)
Ma dove vive questo signore? E perché fa l'amministratore delegato se non ha ancora capito che
il futuro
è nei servizi a sottoscrizione, dove
la gente paga (anche poco) per utilizzare servizi che ritiene utili
?
Martedi 10 Aprile 2001
I've been checking out typography on the web, both microsoft's
opentype
and bitstream's
truedoc
. The
CSS 2
specifications allow to
declare font faces and download them from the Internet
; if browsers support it, I could do away with 6 or 7 images on this page. So I'm trying. Wish me luck.
Lunedi 9 Aprile 2001
Speaking of epiphanies, I just got the cite/quote specs right: you <cite>an author, or a text/<cite> and you <q>a passage or a phrase/<q>. Note to self: quit thinking about how user agents present information, and concentrate on structure.
Mozilla DevCenter.
The nice part about the web is that it keeps reinventing itself, so you cannot be contempt with what you know, because you always know less and less, instead of more and more. Keeping pace with the development of technologies is... a job itself! But it is exactly what has driven me onto it: having to reinvent yourself, having to stay on the frontline, being part of a revolution, staying up at night alternatively divesting attention from the late-night movie and code, going to sleep after achieving success in a design, a buggy piece of code, a cross-browser issue or simply the understanding of a new acronym.
The only regret is that I'm more disillusioned... no, anonymous would be better, in that I feel that whatever I do must already have been done. I gotta grow out of it, or I'll be pushing less and less. I also have to resolve to make posts without ...
Linus doesn't have much against X, but against MACH, the microkernel Unix variant on top of which X is built. Back in 1992, when Linus was writing Linux as a personal project, the debate on microkernel vs. monolithic kernel was quite furious. Linus responded to a post from the creator of Minix, Andy Tanenbaum, a professor of a Ducth university, starting a flame on comp.os.minix. He had a bloated ego, but then he was speaking to advocate what better had Linux compared to Minix.
Still I don't think MACH per se is at disadvantage compared to Linux. While then Linus' animosity might have been part of a respectable technical and para-academical debate, I think today's is more of a marketing ploy: if MacOS is coming the Unix way, hell, folks can swith to a true OS and come on Linux, right?
So Mac users now have 2 "enemies": WinDoz and Linux. And this is sad, because the latter is indeed a good system, though its best characteristics are the ones that are keeping regular people away from it: it's a programmer's dream system, not a user's one. I'm still not sure how user-friendly is X...
Sabato 7 Aprile 2001
Il solito politichese. Non basta una legge ridicola, Manca ancora il regolamento definitivo che dovrà varare l'Autorità per le garanzie nelle comunicazioni e tutto nella confusione più completa dei limiti di applicabilità, della natura completamente diversa del medium e di una palese incapacità di confrontarsi con la rete. Ignoranza e presunzione regnano sovrane in questa italietta legislativa. Forse scrivo in inglese per tenermi volutamente lontano da questo triste e rovinoso paese, che però amo e mi sento dentro.
Uno sfogo, sissignore, con la f maiuscola e la delusione di vedere le unghie che si allungano su internet, questo mondo che ci siamo costruiti condividendo, scoprendo, aiutandoci e rispettandoci, nell'indifferenza dei più e prima che diventasse di moda (senza spocchia per i newbie). Oggi è popolato da one-to-one relationship managers, senior interactive consultants, new-media editorial supervisors, da una folla di dammituttogratis che sgomitano e si accalcano con poca o nulla netiquette, e finalmente (perché prima o poi doveva succedere) infiltrato dagli ometti della politica, spadecorte con l'archibugio nascosto.
Tornerò all'inglese, senza dimenticare di alzare la testa e dire di no quando serve.
My favourite
pranksters
are finally online, and with a great site documenting their history and activity.
[ via boing boing ]
Venerdi 6 Aprile 2001
I lost an auction for a Coolpix 800. I'm sad...
Traffic has the same photography as Three Kings, only on steroids (or on drugs, pun intended ;-). Lights have halos, colors are livid and bleeding, yet they are not saturated; there are almost no midtones and the film grain plays with the handheld shooting.
On DVD, David Russel, director of Three Kings, talks about shooting the movie with a tecnique known as "bleach bypass" which does not completely remove silver from the film. The results are the violent colors which are an integral part of the visual effects of the cinematography. The mexican scenes of Traffic feel much the same, and of course, remind of the desert sets of Erin Brokovich.
The storytelling is a lot like Magnolia, just a little more knit together. Overall a great movie. Slow paced, majestically shooted and directed, despite the theme more like an embrace than a frontal assault.
Giovedi 5 Aprile 2001
More on data streaming (push is sooo passé). Streaming data flows into view delivers a better view on the field and gives a couple of interesting facts, such as that some $50 dollars of venture capital money have been invested and that there are around a half-dozen players. One of them, FineGround has developed a software only approach that is marketed as a caching technology for dynamic content.
FineGround's condensation technology allows browser to reload a page from the flow of caches (local, network, server proxy, load balancing, etc.) even when its content has been updated. So: they're stripping the html of the dynamic content, basically sending a template to the user, then filling it client-side. Only the content is delivered at subsequent reloads.
I need to know more...
Tutti hanno diritto di manifestare liberamente il proprio pensiero con la parola, lo scritto e ogni altro mezzo di diffusione.
La stampa non può essere soggetta ad autorizzazioni o censure.
[ Costituzione italiana - Art. 21 ]
A congressional commission has unanimously passed a law which defines any site that publishes information as an editorial product, thus allowing for control and censorship, and imposing strict rules on who can publish and on the responsibilities of the hosting company.
Mercoledi 4 Aprile 2001
Fabio is keeping
a list of Italian blogs
. Would I fit in?
Martedi 3 Aprile 2001
Was Push Only Dormant?
A startup has developed a push technology that actually saves bandwidth while keeping the connection between the browser and the server open.
The technology relies on a new set of intelligent routers [so it's a hardware company, right?] plus a combination of dynamic HTML and custom tags.
My understanding is that when a page is served and goes through the routers, it is scanned for the dynamic tags, client-side scripting logic is added to enable the two-way interaction, the user connection is logged and the process begins. The client receives the page, the code starts up its listen mode (uhm, kind of ping mode I presume, otherwise firewalls would block it), then, whenever the routers receive an update to content they have delivered, they contact the clients and send the update down the line. At this point the scripting applies simple dhtml to substitute the original content with the latest one.
I thought KnowNow was working on a similar technology (keeping an open connection with the client) but recent articles have painted a different scenario.
I'd love to know more, but I'm puzzled: Who's gonna pay for the network setup? If they need to deploy new hardware they face an upfront cost of development, manufacturing and installation. Their pricing scheme cannot be much different than a service fee plus a combination of per-user and per-content delivered. So how do they cover the cost of the infrastructure? My answer is by signing rich clients with many users needing constant flows of data: trading sites. The users pay for the service then, not the clients.
Uh, more. I remember reading of two people devising a way to read some kind of blogger data, and build a google-like search engine. I searched but couldn't find much (do you know how hard it is to search on google for search oogle blog???). If you remember anything, tell me.
I can't find references to it, and yet I know it is a deja-vu. As a side thought, why do I get ideas early in the morning either while walking to the garage or while riding to work? Anyway, here's the thought: if Blogger backend allowed for a hook to search content in its native format, there could be both a directory and a search on all public blogs that could be very specific (eg. references to a site a certain day). I think the implications are that weblogs, taken as a whole, are an incredible documentary of life and thoughts, albeit vague, noisy and amatorial. But precisely these qualities give the phenomenon a uniqueness that other forms of commentary on everyday things could not have in the past. The more I write, the more I think of the comments to Derek's
What's a Weblog? You tell me
.
But I started from the search engine. Of course, such a project should not be limited to Blogger's repertoire of content. Sites edited on
Manila
,
Greymatter
,
do-it-yourself backends
should all fit in, possibly through a common meta-repository
á la
weblogs
. I have to think about it and research more, but it was inspiring to read that
something is moving
.
Lunedi 2 Aprile 2001
I am thoroughly flummoxed by these incomprehensible directions
Flummox is my word of the day (and
m-w
's), and yes, I'm flummoxed and perplexed by my
Pc inability to run .asp pages locally
.
On Wednesday, Mr. Bush withdrew U.S. backing from the 1997 global climate treaty that seeks to cut greenhouse emissions. He said it would not be in U.S. economic interests to participate during an "energy crisis."
If one wants to be a world leader, one must know how to look after the entire Earth and not only American industry [ Romano Prodi on La Repubblica ]
It's beginning to annoy me that people speak with a 10-words-vocabulary to cement friendship and feel part of a community. The thought popped up this morning while riding to work and despite the traffic, I had time to rationalize and analyze it in a sociological way: the use of particular words, spoken in the circle of people before one's entrance, builds trust and community, and the exxasperation of such use shields the group from outer influences and attacks. And while it is fun to bend and play with the same 5 words to adapt them to any possible circumstance, in the end the game gets locked in a self-referential loop; and everything becomes meta.
I still love the friends which are at the origin of this thought, and I'm sure I'll be catching myself to use those 5 or 6 words when in their company, but I'm sure we can have fun and feel close even if I extend the nanovocabulary and use words for what they mean.
I spent the weekend sanding the doors and doorframes in the entrance. This has had several consequences in my life: first, I'm halfway through a cold, for which I'm not sure whether to blame my horoscope (which predicted it), sweating like crazy in a house that has every window open, or Spring, which has this attitude of serving you one sunny day, one windy day, one rainy day, and one sunnyrainywindy day, in random sequence.
Then there's the fact that I was tired to come up with a good April Fool's, so you got none.
Last, for the same reason, I spent the night watching Three Days of The Condor. And I loved it. It enters my chart of favourites in the top ten.