Archivio del blog, Marzo 2001
Venerdi 30 Marzo 2001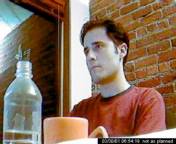 I made a post by hand
while blogger was offline and ev was troubleshooting it
. I can't recall exactly what I wrote, but the spirit was this: I admire someone who stays up all night for code/db upgrades and the inevitable bug solving on an application I have become dependant upon and that it is free.
Giovedi 29 Marzo 2001
my current job feels like climbing elevators that are going down: you walk but you're always in the same place. I need to climb elevators that go
up
: to go faster than the regular crowd.
I only saw one performance of
Ultima Vez
but I'll remember it for ever. The power and elegance of these acrobatic dancers is still fixed in my memory, more than 8 years later. Now they have a site which documents most of the work of Wim Vandekeybus, leader and coreographer.
I didn't know Wim had worked as a director making several short films.
Inasmuch
, the latest short film, is showing online and is streaming down now.
eye candy from the underground
popped up while reordering bookmarks (the ones from the To Do folder...). If you haven't seen trends in web design, you should see its ten examples of style.
A less promotional and incredibly beautiful Flash site on
Bill Bowerman
, the father of the idea of spring shoes. The documentary is produced by
ioresearch
and
secondstory
. A close approximation of Flash perfection.
Don't wear those shoes!
If air-filled sneakers can cause ankle injuries, I wonder what the newest type of
spring-bouncing trainers
can do!
[via davenetics]
Mercoledi 28 Marzo 2001
Bah...
Martedi 27 Marzo 2001
Just caught on a paper ad: powered by GREY DIRECT. Since when an ad is powered? Evidently, somebody thought it would be cool and modern to slap a "power" word somewhere on an otherwise plain dull ad. While they were at it, they could have written: e-net-powered by whatstheiragencyname...
E-NAISSANCE _ New configurations of mind, body, and space è il dodicesimo appuntamento del programma internazionale di ricerca e dottorato CAiiA-STAR (Centre for Advanced Inquiry in Interactive Arts, University of Wales College Newport - Science Technology Art Research, University of Plymouth).
Nei due giorni della conferenza 20 tra artisti e ricercatori provenienti da varie parti del mondo discuteranno i nuovi confini fra umano e artificiale, organico ed inorganico, attraverso una ricognizione fra le pratiche artistiche e le teorie emergenti alla confluenza fra arte, scienza e tecnologia, prefigurando come ripenseremo la mente, il corpo e il nostro ambiente nel prossimo futuro.
Help needed
My copy of IIS 5 on W2K Professional sp 1 has stopped serving asp pages. Static content (images, HTML, txt) works, asp doesn't.
Itried reinstalling IIS, deinstalling and reinstalling it, manually copy the asp.dll, asptxn.dll and aspperf.dll, restarting the server, but the situation persists.
Ideas? I really need to prototype apps locally.
Per chi arriva da Blogorroico: ecco quanto ho raccontato ad Antonio via email sulla Visa e la Ami 8.
Per quanto riguarda la visa, mi padre ne aveva due, una begiolina e una rossa. Ma il bello è che prima aveva una ami 8. Un bel gioiello di macchina: verde petrolio, una volta facendo benzina un camion gli portò via la portiera: la cambiò, ma nel colpo ruppe anche il finestrino della portiera posteriore. Quello rimase rotto, e i gatti del cortile in cui la parcheggiava ci cominciarono a dormire dentro. Così il sedile era una cuccia, l'odore di piscio infinito e la macchina stava ferma per settimane senza muoversi.
La chicca arriva proprio in questi frangenti che per una fiat, anche una duna, sarebbero stati disperati: l'avviamento a freddo dopo settimane di immobilismo. L'ami 8, gloriosa predecessore della Visa, si avviava a manovella! Metti un manico d'ombrello in un buco sotto il radiatore, due giri e via, quel bel suono di motore francese. Anche il cambio era a manovella: mia madre, di scuola 500L, si rifiutò sempre di usarlo.
Ma voi giravate con l'Ami anche dopo che i gatti ci avevano pisciato dentro?
Certo! quando hai 7 anni non hai molto potere sui genitori. Il bello è che quando giravamo con l'ami era un po' circo barnum, per cui in fondo eravamo contenti.
Lunedi 26 Marzo 2001
Adobe ventures in the 3d field and does it with a public beta of Atmosphere (available for Windows only, sigh, Mac version promised). I wonder why they should be more successful than Metacreations --> Metastream --> Viewpoint (all these transitions should speak volumes). And what about VRML, now web 3D consortium? Some company that betted on a 3d revolution folded, others are frozen in the state they were 3 years ago, and the field feels forgotten.
I wrote my master thesis on 3d interfaces and the web (the focus was not as specific but I covered quite a lot of the field as it was 3 years ago). I shared some of the premises and most of the enthusiasm back then, but documenting the state of technology at the time opened my eyes on the fact that everyone was betting on usability assumptions derived first hand from a novel. A great novel, but one nonetheless.
I don't think it's going to be immersive 3d to move users away from the desktop: it's going to be pilot and alikes. 3d has a limited place: today there's more bandwidth, but the applications are still mostly confined to gaming and narrative. 3d chats are fine for users that have a lot of time to spend: if you need to get your work done while exchanging a few lines with a pal, IM is better. There's more room for application that can project information spaces onto immersive spaces while some old ideas should be reiterated.
But I'm checking out Atmosphere: I might change my mind.
cam advertising
Following thoughts on micropayments and microdonations, I've begun thinking about all the webcams that bloggers leave running on their sites. What if they were pointed at commercially interesting items? Say your PC brand, something on your desk, or a poster hung on the wall behind you. Could there be a business model to remunerate authors?
There are two problems:a viable tracking system and the value of the contract between an advertiser that gets chosen in a pure pull logic, the author and its readers.
But why reinvent the wheel, you'd say, don't banners do the same? Actually, no. First users are by now mostly blind to banners. Second, the value of camadvs is boosted by the fact they are deliberately chosen and set up by the site's author: the value of the site transfers and enhances the value of the ad. Last, the casuality of the display would dilute the ad annoyance.
Then again, I'm faced with a dilemma: is it really a good idea? If I'm happy about my new ADSL router and I point my webcam to it, can I get a few cents/credits back? Am I an avid jerk if I do it? And last, can this be built on top of current affiliation programs?
Domenica 25 Marzo 2001
Sgurz!
My father had a Visa for a while... I think I better tell
Cavedoni
. If it were a Disney character, it sure would have been Goofy. But it wasn't as sfigata as the
Duna
. I don'y have any picture of it, but I remember how we got rid of it: my father crashed it one night against a Fiat Uno Turbo which had not yielded. If it had to die, it better be for a car more tamarra!!! Oh, and before that one, we had another Visa, and before that an
Ami
8
. Try beat that!
Sabato 24 Marzo 2001
Last night Asia and I went seeing Concorrenza Sleale [treacherous competition]. It's a good movie. It manages to deal with the advent of the racial laws in the fascist Italy of the 30's without lingering on pathetism or compassionism, instead unfoldling an elegant development of a friendship.
The set is confined to the Roman street where Leone (Abatantuono) and Umberto (Castellitto) both live and work, their botteghe one next to the other, Leone's elegant tailor shop and Umberto's popular merceria (haberdashery shop). The at times fierce competition between the two stores and the two families takes a sharp twist with the introduction of racial laws against Jews in Italy. Neither Rome nor commerce is the same anymore and the events collapse. The friendship of the children of the two families transfers then to their fathers, overcoming the distance that the commercial competition had marked until then.
It's the second good story in two days: I wonder if I can keep this rythm...
Venerdi 23 Marzo 2001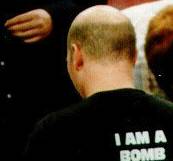 If it's not Photoshop, it's a hilarious one!
[from Eric]
Las night I finished Q. It's a great book, addicting, incredibly well written, historically documented and rich in humanity. It's the kind of book that has a torn cover, that passes throguh many owners, gets lent, is lost, found again and then jelously kept. It makes you want a sequel while knowing that precisely because there is none, it was so good to read.
Sara tells me it was co-authored by four persons, hidden under the group pseudonym of Luther Blissett. Of course they have nothing to do with the media noisemakers known by the same name. Still the link is not vague: the revolutionary spirit that permeates the book is not distant from the actions of the roman infoguerilla, the main character which goes through so many names (and is never presented with his own real one) echoes the anonimity of the group (and of the authors of the book), the European dimension of the events narrated rings in with the current geopolitical context.
You can also forget about all these hypertextual links and simply read the book for what it is: a very good story.
The restaurant (?) Pescarito had tables out today for the first time since last summer, so we ate outside. Pretty much the only good thing so far in the day.
Giovedi 22 Marzo 2001
The webcam is now live (as long as I'm at work).
The
backup tape
is damaged.
While driving to The Gold Garden, a chinese/thailand restaurant in Settimo, Sara had the courage to say "Potrebbe sembrare, ma la mia in realtà è una guida sicura" (which translates to "You migh beg different, but my driving is very safe"), this while attempting a U-turn driving slowly from the right side of the road, no signal and cars passing her quite fast.
Aside from this, the fried frogs were excellent.
Serendipity
Ok, I followed Meg's link to
Michael Sippey's All your base joke
and wanted to back up onto the site home, so I deleted the part of the url that I no longer needed, but the mouse slipped and the selection when I hit delete wasnot the one I wanted, then Explorer filled the blanks and I eneded up at
The Global Archive Index
. Wow!
Yesterday was officially spring. A year ago Keith launched a redesign with a green ivy and a the statue of a satire on the right that nailed the spirit of the season evoking roman gardens.
Yesterday I made possibly one of the worst cazzata in my work life: I submitted an UPDATE SQL query that wiped out 5120 email address, which, incidentally, I will be needing in a few days to inform that the service they were waiting for has started...
I'm praying there are logs and backups that save me (have you ever backuped something important???)
Martedi 20 Marzo 2001
I put up a preview of what
provami
will become. It plain annoys me I have to do it. Not that I don't enjoy it, I mean, there's something incredibly intense in authoring things, in putting one's own work on the web for others to see, judge, but ultimately use, whether it is done for profit or not.
What bugs me is that I should be directing a team that builds the whole thing and instead I have to cover up the fact indecision reigns supreme, and that old-economy companies haven't yet figured out the pace of the Internet. This is my personal blog, I think I can safely say this here, but I feel a little hitching in the back of my head, and that usually warns me when I do something not too smart, or plain stupid. Which is to say, if/when this hunts me, at least I'll have a
captatio benevolentiae
in place...
Business' rules defy logic and mine friendships. I hate the corporate way of doing things...
Lunedi 19 Marzo 2001
The triangle
Just like in those good
Lubitsch's moovies
,
Sony is considering porting to Xbox VirtualGameStation
recently acquired from Connectix, settling a rather long legal battle. Sony loves Connectix loves Microsoft.
Today's
Alertbox
finally comes free of the pompous advertising of
Jakob
and co.
I'm not the only
Matteo Fogli
on the web...
Sabato 17 Marzo 2001
"you can't say no to hope, can't say no to happiness"
-- how I had not listened to Bjork in more than two years remains a mistery. It has been fixed.
[ discography ]
Shopping day: I need pants, a shirt, and something so cool that makes it worth spending a Saturday afternoon downtown pressed against hordes of fifteenyearsold lookalikes, all dressed the same way, while trying to reach the few decent stores I like.
Venerdi 16 Marzo 2001
Jedrek has a good touch
. After talking about italian webdesigners, I hit prawda's new poetically decadent tree. It struck a chord.
Thanks to the
Blogging
phenomenon
I'm surfing on many
italian
blogs
and
web
designers'
sites
.
What strikes me is that while most draw their inspiration from
Derek
(how couldn't they!) they presents their sites more like photoshopped layouts than real designs (there are notable exceptions and this is going to cost me a flame, especially since I am a nobody in such circle of friends).
Web design is a lot more like page layout than multimedia authoring. Pop-ups of fixed size that open to load heavy jpegs in tight
<tables>
are not my idea of
web
design. My
goals
are
liquid layouts
,
efficient information architecture
, spare use of flash, sleekness and the courage to throw away a visually appeasing design for a less glamorous but content-friendly one. Of course this is part art direction (where personal tastes become the defining rules) and part approach.
Design is to give shape and a movement towards the user to an object, an idea, an experience. Disneyland has great design because you come out of their rides wanting to reenter them right away. It's also good design because you wait in line an acceptable time, despite the hordes of visitors to their attractions. Web design should serve the same purpose: present information (which, granted, can be design itself, thus being completely autoreferential) in a usable, useful, pleasing way.
Ok, maybe I'm a minimalist, or maybe I lost what was driving me when I was 22, when I too spent night designing, but it seems to me there's a purpose missing. Actually, the purpose is to do, to show, to leave a sign in the online world, which is great because it reveals the passion for things. But then someone notices it is not enough. I'm glad I'm in good company.
Da Cselt a Telecom Italia Lab
. Definitively abandoning R&D in one of the few places where was still done. This is why there seem to be more managers than engineers now...
(source: Costantino)
Giovedi 15 Marzo 2001
Kottke
cites Le città invisibili by Calvino and it's nice to see Calvino is known in the U.S.
Il Barone Rampante is one of the best stories of freedom and individuality ever written. It fascinated me as a kid for its adventurous accent and it now delights me for the subtle and fine irony it is peppered with. I remember Nacio lending me the book, and what better place than
Villa Lachelle
to enjoy it. At times I raised my eyes and looked through the foliage of the trees in search for the Baron...
Copy This! Can 'Military' Technology Beat Digital Piracy?
is an article on copy protection technology as a by product of military research. It's not interesting in itself but for the discussion it sparked on
metafilter
[ from Arstechnica ]
Mercoledi 14 Marzo 2001
Not a word on me dreaming of ev instead of a gorgeous girl!!!!
I dreamt of
ev
last night. But he had just killed 27 people in an office that looked like a fast food. I swear, this was weird... but the realistically-curious fact was that before being arrested (for a 3 weeks detention, I like how justice works in my dreams) he managed to make a post on his blog, saying he would be offline for a few weeks.
I checked his site this morning, he's there :-)
Unexpected present
It's been sitting in my poket for a day and I completely forgot about it, but I got a nice present in the mail the other day, and I'm going to pick it up tomorrow.
The Direzione Centrale Gestione Tributi is finally refunding me money I overpaid in taxes in 1994 (yes nineteenninetyfour), plus interest, a whopping 1.148.000 Lire or 592,89 €. I can finally shop for my digital camera (Metallic Blue nothwistanding...)
Metallic Blue
I want one, I want one!
Martedi 13 Marzo 2001
Wind and rites
Torino is at its best when its windy. And today is such a day. A little chilly but sunny, terse and crisp, the whole circle of mountains as vivid as possible at the end of every street, grabbing your attention and diverting it from everything else. It's a spring day, a self-explaining one, it widens your perception of the city and of the people that buzz in it.
It was a great day for remembering David, and for discovering the Jewish rite of mourning.
The small synagogue is almost like a crypt, with rounds of stalls where men sit and pray, women being further from the inner floor and separated by a half-height grated wall. The community is tight-knit: you need ten jewish people to pray, one recites a litany in Hebrew, fast, faster, word after word at ever increasing speed. His voice is punctuated by unisonal nurst of the other men and commented by what seems to be a chaotic babbling of verses, reprises of the words voiced by the speaker, uneven echoes like waves of words crushing onto an ever moving shore.
There are crescendos, chilling at bit, when you feel you are reaching a topic moment, even if I was at such distance, unable to understand, curious as to what would happen next, at loss of gestures and easiness. It is touching, though in a way that is not of our culture.
I spoke briefly with Emilio after the cerimony while riding back to work. We both felt spectator of a rite that we could not enter, despite being there in the second row, and we both were thinking of David half jokingly imagining him at loss as we were, though the cerimony was indeed for him. He would actually have understood everything, having been in a kibbutz for a year in Israel.
Thinking of David defeats his death. He had alwasy been with us, after having left for Belgium. In a way we still feel as if he's just far, in Belgium, though with us in our memories, ion the jokes about his suitcases and in the pictures that we keep exchanging. It's hard to adjust to the fact he's gone and forever.
I started this post at 5:30 pm, when I got back to work. Since then it got dark outside and the phone has rung so many times I hardly remember having gone out for a couple of hours...
Lunedi 12 Marzo 2001
The demise of a hero
Interarchy.com is now a
Yahoo eGroups
. It seems Stairways has become a sort of public discussion group instead of a software company. They boast 1.1M$ in sales and yet a presence on the web that makes them appear as refugees. Maybe it's a move to capture part of the OpenSource spirit and attention, or to go back to the roots of shareware, but it looks like the money has run out and that a free Yahoo group is the only way to still be on the web. It's sad. The only good thing is that there are
mirrors
that still allow to reach old but definitively good pieces of software.
A long weekend offline
Saturday the piece of forniture that Asia and I ordered in December finally arrived. It took 2 persons and 3 hrs. to put it together and
most of it has been documented
. It looks terrific. The lens of my QuickCam cannot capture it in its glory: the angle is too short and the quality barely acceptable, which reminds me I have to shop for a digital camera.
I spent most of Saturday upgrading the office Blue G3 to OS 9.1. For some reasons, the first install kept giving me problems, and it took a complete reinstall + migration to get it right. The new system feels faster and has finally gotten me rid of the "too many files open" error...
Last night I read a good part of Q. Laying on the sofa, Mozart's Requiem playing, Pixel purring at my feet and the moon up above the mansard opposite of my living room's balcony it felt like home. One of the first times that it really felt like home.
I also visited my granny. It was good. She was like a little kid, witty questions, little jokes, sweet and nice.
They are giving her a very light treatment so that she is perfectly aware of goes on around her, but is not as defensive and hard as when she was living alone. There's no need to keep the world at distance now, no one is hurting or taking advantage of her now...
Venerdi 9 Marzo 2001
Too much vodka last night, but definitively a great evening with friends. Probably the first mourning party not only that I attended to, but that I helped organize. There were Paolo, Emilio, Nico, Sandro, Ferdy, Katya, Anita and Luca, and memories of David kept popping up. The mood was bright and cheerful, the loss seemed to hit less than a few days ago when the news striked. We said goodbye to a friend the only way we knew he would have liked.
Too much vodka though. It's been hard to get up to speed this morning... woke up at 8:30, orange juice for breakfast, couldn't really have anything else/more. It's a beautiful day though, sunny and border blue, a little chilly perfectly quiet.
It seems we have final specs for a css based 3 panes layout. Nice to see that Stefano had a similar layout in place this side of the ocean before the discussion begun. He also reveals the secret behind KnowNow.
Giovedi 8 Marzo 2001
...and so the adventure begun.